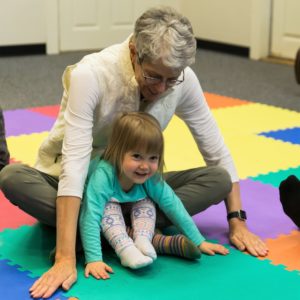 Rules
(Updated June 2022)
Masks are no longer mandatory, but still recommended.
We strongly encourage all eligible attendees to be fully vaccinated, in order to allow our classes to continue uninterrupted. We currently have limited staff, so any illness of our staff can have a large impact on whether classes are held.
If after attending a class, you discover that one of your party has contracted COVID-19, please do inform us immediately.
Please remove shoes when entering the room for class. Sometimes regular socks can be slippery on our floors, so we suggest little ones go barefoot or wear grippy socks.
Please do not leave soiled diapers in the classroom; bring a plastic bag with you to take the diapers with you when you leave.
Class may be canceled by Sound Play due to weather or health issues at any time. A limited number of make-ups will be available if circumstances allow.
If we discover that someone in a class you attended has tested positive for COVID-19, we will inform you immediately. No specific names will be shared, but we will do our best to do contact-tracing for your own health.
Snow Days
We will conform to the school cancellation policy of the town in which the classes are held. Please check with the WBZ/CBS website in the morning for school cancellation announcements.
We will also attempt to email everyone in the class an hour prior to class if we are cancelling for that day. (We will use the email entered on your account info when you register.)
Photos and Video
We encourage you to take of photos and video of your children during the class, if you like. However, please be considerate of other families, and avoid photographing their children without permission.
If you strongly object to photos or videos of your children being taken during class, please do let us know.
Absences
If you are not able to attend a particular class, please do mark yourself as absent on our portal as soon as you know.
Tuition
Tuition must be paid in full via our website before the first day of class. If you have not fully paid, you may lose your seat to another attendee.
Refund Policy
In case of natural disaster, snow days, or other external factors that cause the cancellation of classes, we will do our best to offer make-ups. If the make-ups are not sufficient, credit for a future class, or a refund may be given at our discretion on a case-by-case basis.
Special Financial Circumstances
If you have a special financial issue that impacts your ability to participate, please do contact us and we will try to work with you.
Terms & Conditions Policy
We reserve the right to modify or change our terms and conditions without notice. We will not be liable to you or any third party due to such changes.
Liability Waiver
Due to the COVID-19 pandemic, preventative measures have been put in place to reduce its spread, but there is no guarantee that participants will not become infected. By participating in the Sound Play program, I hereby release, covenant not to sue, discharge, and hold harmless Sound Play, their employees, agents, and representatives, of and from all liabilities, claims, actions, damages, costs or expenses of any kind arising out of or relating to my participation in this program. I understand and agree that this release includes any claims based on the actions, omissions, or negligence of these organizations, their employees, agents, and representatives, whether a COVID-19 infection occurs before, during, or after participation in this program.