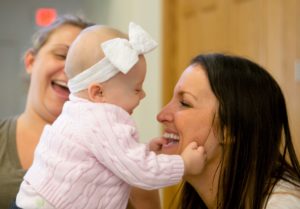 OVERVIEW:

  Small class sizes allow children and adults to feel comfortable with each other. Every class feels like family!

  Each 10-week semester features 20 new songs, for a period of three years, so you and your child are always learning something new. Family classes receive a CD of music every semester.

  The 45-minute classes are structured the same way every week, so children quickly settle in and look forward to each activity.
MUSIC:

  The music for class is rooted in both American and multicultural folk song traditions that have stood the test of time.

  Representing a wide range of styles, the songs provide ample opportunities for singing, dancing, fingerplays, musical games, and playing a variety of instruments.

  Songs are carefully evaluated to comprise a balanced curriculum filled with interesting and varied melodies, rhythms, and tonalities.

  Every semester we explore the music using egg shakers, scarves, parachutes, rhythm sticks, jingle bells, drums, resonator bells, and lots of other fun surprises!  Sound Explorers play and compose their own music on real instruments, such as xylophones and metallophones, ukuleles, percussion instruments, and keyboards.

  Parents love the music as much as the kids do!