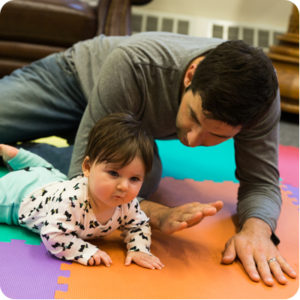 Sound Play currently offers three levels of participation in its programs:
SOUND BEGINNINGS
Babies Class, for ages newborn to pre-crawlers, and their grown-ups.
Bond with your baby through music! In this class, parents and caregivers learn to read their baby's cues and responses to music, while baby learns to associate music with soothing, trust-building bonds with their grown up.
SOUND PLAY!
Mixed Ages Class, for ages newborn-5 years and their grown-ups.
Dance, move, sing and groove! Children in Sound Play mixed ages class explore a new world of music through fingerplays, lap bounces, prop and instrument play (egg shakers, scarves, parachute, rhythm sticks, resonator bells, etc.), lullabies, dances, and the highlight of Sound Play classes- a jam session with a variety of instruments to play in the band with all their friends!
SOUND EXPLORERS (Sound Explorers is not being offered this semester. Stay tuned for it's return in the near future!)
Ages 4-6 years, drop off program (1 hour long)
Explore the world of music through science, art, movement, games, dramatic play, and song-writing! Through exposure to a wide variety of instruments and musical genres, children learn music fundamentals and improvisational skills that culminate in a group song-writing project. Problem-solving, team-building, and creative thinking prepare your child for life, as well as a lifelong relationship with music!
Classes are currently held at the following locations:
The Union Congregational Church, 148 Haverhill Street, North Reading, MA
Stork Ready Pregnancy and Parenting, 217 Main Street, North Reading, MA
Dance Xhilaration, 451 Main Street, Stoneham, MA